Breaking News!
As September 2009 approaches with no announcement of a date for the fall dog auction at Horst Stables, many of you have been asking us when the next Thorp dog auction will be.
We are excited to announce that the answer to that may be -- NEVER!
For the past three months, we have been investigating a rumor that the auction may be over. Several reliable sources have told us the same thing: there will be NO MORE DOG AUCTIONS at Horst Stables!
Auction organizers have been quoted as saying that running the auction is too much of a hassle because of the protests and negative media publicity!
Clark County Humane Society, its members, friends and supporters are happy to have been instrumental in achieving this wonderful goal of putting an end to the misery inflicted on the innocent dogs who languish in the puppy mills in the name of greed. We thank all of you who wore your orange t-shirts, stood up and chanted, carried signs in the hot sun and the sub-zero temeratures -- as well as all of our Media friends who reported on the auctions, the dogs, the millers selling them, and their impact on you -- NEVER doubt that you made a difference, and we can't thank you enough!
This round has been won but we must all remember that it is only a small piece of the overall fight for freedom and a decent life for man's best friends. We will not rest until each and every is dog free of the systematic neglect and abuse that is so common in the puppy mills.
Please be sure to read more about the exciting news by copying and pasting this link, from our good friends at Wis Puppy Mill Project, into your browser:
http://www.nowisconsinpuppymills.com/thorp-auction-alert.html
DOG AUCTION MARCH 11th

The next Dog Auction has been scheduled for Wednesday, March 11th, 2009 in Thorp. The auction begins at 12:30 p.m. Dogs will be available for public viewing starting at 10:00 a.m. We will be there to protest and we invite all concerned animal lovers to join us! General guidelines for the protest are listed below. More details regarding the protest will be available as the day grows closer, so be sure to check back. Once again, we need to stand together to let everyone know that dog auctions are just wrong!

Click here to view the catalog of dogs to be sold.
DOG AUCTION PROTEST

Wednesday, March 11, 2009

Protest Guidelines:


1) We will be meeting at 9:30 at the Northside Park in Thorp.

Directions are: Take Hwy 29 to Thorp. Get off at Exit 108 for Thorp, Hwy 73 and Hwy M. Take Hwy 73 North. Drive straight through the city of Thorp. Cross the railroad tracks, drive about 4 blocks past the tracks and the park will be on the left-hand side.

2) Dogs may be viewed at the auction site from 10:00 - 12:30 and the auction starts at 12:30.

3) Bring the following:

* If you have one, wear your orange protest t-shirt. You can wear your t-shirt right over your winter coat! If you don't have one, they are for sale at CCHS (click here to order yours!) and will also be available for sale at the protest. The cost is $10.00 plus tax. (Please bring along another shirt to wear in place of your protest shirt. It is possible that anyone wearing a protest shirt may not be allowed to park in the auction lot. They may also deny you admittance to the auction itself.)


* Plan for bad weather! Please dress warmly and wear extra layers. We
will have hand warmers and rain ponchos available.
* Umbrella and waterproof footwear in case of rain, sleet or snow.


* We will have snacks and hot beverages available.

* A protest sign. We will have markers, lathe for sticks, and staples

available to help finish your sign. You may use your own

slogan or choose from the following suggestions:

~ Ban Puppy Mills!

~ Stop the Suffering!

~ Look what they do to Man's Best Friend!

~ Mills are no way to treat dogs!

~ Dog Auctions are Cruel!

~ Regulate Puppy Mills Now!

~ Stop the Abuse!

~ Down with Dog Auctions!

* We will have extra protest signs available if you need one.

* If you don't have a protest sign, we also need people to help

hold our banners. Just let us know that you can assist.

* A camera for pictures of the protest. Cameras and "recording devices" are not allowed inside the auction (gee, we wonder why?) but we would love to have pictures of the protest.


4) Additional protest guidelines will be provided that day.

If you are not able to meet before the protest, you may certainly come directly to the auction to join us! Take Hwy 29 to Thorp and get off at Exit 108 for Thorp, Hwy 73 and Hwy M. Take Hwy M South. Go about 3 miles to the Horst Auction Barn. It is located at N13653 Cty Hwy M and is on the right side of the road.

Let us know if you will be able to join us.

(Email us at: (petshelter@email.com) We need to know how many of you will be there to help us. We are hoping for a huge turnout!

Want to make a statement against puppy mills and dog auctions?


Let everyone know that Wisconsin puppy mills and dog auctions are just wrong. Join us in wearing your Puppy Mill Protest T-shirts! These t-shirts feature the logo of the Wisconsin Puppy Mill Project with the message to "Stop the abuse. End the suffering. Regulate puppy mills now!" Printed on bright orange shirts, they are sure to get the message across. The shirts are available in all sizes: Small, Medium, Large, Extra Large, 2X and 3X. The price is just $10.00 for each shirt, plus $2.00 shipping and handling for each.


You may order securely through "Click 'n Pledge" below, or you may order by mail. Just send your check to: CCHS, PO Box 127, Neillsville, WI 54456. Be sure to indicate how many shirts and the sizes you would like. If ordering through Click 'n Pledge, please specify the size(s) you would like.


Please allow two weeks for delivery. This is a great way to draw attention to one of the worst activities in Wisconsin. Please help us get the word out that puppy mills and dog auctions are inhumane and must be stopped! Thank you for joining our fight to stop puppy mills!




Puppy Mills in the News

Some comments about the story that follows below.
You know there are some people in this world who are so money-oriented that greed overcomes any sense of right or wrong that a normal person should have. Such is the case of two kennels in Berks County, Pennsylvania. That state, like Wisconsin, is struggling to cope with the burgeoning number of "puppy mills" infesting it.

Many of these operations are just a way to make a quick buck for the owners and the best way to do that is to cut corners wherever they can. Whether it's skimping on medical care, quality food, routine maintenance, proper breeding practices, sanitation, etc., they are willing to do whatever it takes to increase the profits at the expense of the animals housed there and ultimately at the expense of the unsuspecting pet buyer who may be stuck with large vet bills to correct medical problems. Then there are the socialization issues and all of the behavioral problems mill puppies may have due to lack of proper handling in the first weeks when their personalities are developing. This is when they learn to fear people who may mistreat them. That oftentimes turns into a fear of people in general. It's a fear that can carry through for a lifetime.

Apparently, the two Berk's County millers felt that the new Pennsylvania regulations requiring some health and sanitation issues in their kennels to be corrected was too much of a financial burden so instead of complying with what we would consider to be a very legitimate request to correct an unacceptable condition that could harm the animals housed there, they chose to kill all 80 dogs. That does not surprise me. Like I've said before, IT'S ALL ABOUT THE MONEY!! ---- Chuck Wegner
HARRISBURG, Pa., Aug. 12 PA-Berks-dogs-killed

Current Law Allows Commercial Breeders to Shoot Dogs

HARRISBURG, Pa., Aug. 12 /PRNewswire-USNewswire/ -- Pennsylvania Secretary of Agriculture Dennis Wolff released the following statement in response to the shooting of 80 dogs at two Berks County kennels:

'The recent shooting of 80 dogs at two Berks County kennels is saddening. The decision by commercial breeders to kill healthy dogs instead of paying to repair a kennel and seek veterinary care is alarming, and will likely outrage many people. Unfortunately, the killing of the dogs was legal under current Pennsylvania law.

'The two kennels involved have both voluntarily closed, but until our state's outdated dog law is changed kennel owners may continue to kill their dogs for any reason they see fit, even if it is simply to save money. We can't afford to wait any longer to pass legislation that would ban commercial kennel owners from killing their dogs.

'House Bill 2525, introduced in May, would allow only veterinarians to euthanize dogs in commercial breeding kennels. The bill would strengthen current dog laws and provide better standards for the health and safety of dogs in commercial breeding kennels without burdening other types of kennels that house dogs. The legislature has an opportunity to pass this important legislation this fall, and they should -- as doing so will assure that this activity will be illegal in PA commercial breeding kennels moving forward.'

Rather than seek medical attention for dogs suffering from fleas and fly sores, kennel owners Ammon and Elmer Zimmerman of Kutztown shot all 80 of their dogs to save costs. The Zimmermans, owners of A&J Kennel and E&A Kennel, voluntarily surrendered their licenses on July 29 after killing the dogs.

Dog wardens inspected E&A Kennel on July 24, noting several violations for kennel sanitation and maintenance. Wardens also noted fleas and fly sores on 39 of the dogs and ordered veterinary checks. Wardens issued four citations for violations and planned to confirm the veterinary checks during a follow-up inspection. The wardens were notified on July 29 that the owners of both kennels chose to destroy the dogs and dismantle the kennels.

Here's the latest update on the PA story...
The article went worldwide via the AP.
---
Berks kennel owners kill their 80 dogs

By AMY WORDEN | The Philadelphia Inquirer • Published August 13, 2008



Two Berks County kennel operators killed nearly their entire kennel population - 80 dogs - after wardens ordered veterinary exams on dozens of their animals.

After receiving a poor inspection report on July 24, Elmer Zimmerman of Kutztown shot his 70 small-breed dogs and threw them onto a compost pile on his property, according to officials with the state Bureau of Dog Law Enforcement. His brother, Ammon Zimmerman, who operated A & J Kennel next door, shot 10 dogs about the same time, they said.

It is legal for dog owners in the state to put a dog down by shooting it. Gov. Ed Rendell, as part of his effort to improve kennel conditions, is seeking legislation to allow only veterinarians to euthanize commercial kennel dogs.

Elmer Zimmerman, owner of E & A Kennel, said in an interview Tuesday that he feared the Department of Agriculture was trying to close him down and that he destroyed the dogs on his veterinarian's recommendation.

"They were old, and we were hearing that they don't want kennels anymore," said Zimmerman, who has held a commercial kennel license since at least 2003. "The best thing to do was get rid of them."

Ammon Zimmerman, reached Tuesday by phone, told a reporter his decision to destroy his dogs was "none of your business."

Jessie Smith, the dog-law bureau's special deputy secretary, said Elmer Zimmerman told dog warden Orlando Aguirre that the dogs had been shot.

Aguirre, who had cited Zimmerman for multiple dog-law violations and ordered vet checks on 39 dogs for flea and fly bites, told him he didn't believe he had shot the dogs. Zimmerman then got out the backhoe and uncovered the bodies of dogs - among them poodles, shih tzus and cocker spaniels - that had been thrown onto the compost pile, she said.

"It's horrible, but it's legal," said Smith of the shooting.

"That someone would shoot 70 dogs rather than spend money to do a vet check is extremely problematic," she said. "If the definition of a puppy mill is putting profits over care of the dogs, this is a stark example of doing that."

Smith said Aguirre ordered Zimmerman to destroy the wooden hutches that held the dogs in order that the brothers not go back into commercial breeding.

Smith said the bureau had stepped up its enforcement of current kennel regulations in an effort to improve conditions. If they don't improve, she said, kennels should "go out of business."

Ken Brandt, lobbyist for the Pennsylvania Professional Dog Breeders Association, which represents 300 commercial kennels, said his group did not support the Zimmermans' actions.

"There are others ways to take care of the situation, like in a court," he said.

Howard Nelson, chief executive officer of Pennsylvania SPCA, called the shootings inhumane and evil and said the breeder could have easily surrendered the dogs to rescue groups.

"He could have treated the dogs with medication for $40 or $50," said Nelson. "Every humane society in the state would have taken those dogs."

Elmer Zimmerman said he felt he had no alternative because business had been so bad he couldn't "give away" his puppies, let alone his older, breeding dogs.

Both men surrendered their kennel licenses and Elmer Zimmerman pleaded guilty to four charges of violating the dog law, she said.

During the inspection on July 24, wardens found, in addition to the skin infections, 19 other violations. They issued citations for maintenance, extreme heat, insufficient bedding, and wire flooring that allowed dogs' feet to fall through.

Zimmerman said he had never had problems with wardens before. Inspection reports dating to 2006 show instances where wardens noted severe matting of dogs' fur and inadequate shelter, but no citations or formal warnings were issued.

Smith said the shootings were reason for tougher legislation, under consideration by the state House, that would require that dogs be euthanized only by a vet.

Post comments below the article at this link:

http://tinyurl.com/5dl6yo
DOG AUCTION PROTEST A HUGE SUCCESS!


A recent Dog Auction in Thorp, Wisconsin, took place on Wednesday, March 12th, 2008.

We were there to protest!

Our protest at the March 12th dog auction was a huge success. We had over 60 people in attendance, and the day went very well. We would like to extend a sincere THANK YOU to everyone who helped with our protest. The day was rather cold and snowy, but we know that what we endured is nothing compared to the suffering that continues in puppy mills every day in Wisconsin. Many people travelled a long distance to participate, and we truly appreciate their dedication. We were very pleased to have great media coverage of the event. Please click on these links to

Channel 7

and

Channel 18

to view the stories. The Marshfield News Herald also did a great story. Please

click here

to read their report. In addition, the Marshfield News Herald has published two excellent editorials regarding puppy mills.

Please click here to read the editorials.

Pictures of the protest are now available to view. Just click on the start button in the center of the picture below.
More About This Site....
This site has been created to help keep you informed of future dog auctions and the protest activities we have planned. We know that dog auctions are just wrong and that "man's best friend" should not be treated in such an abysmal way. We will continue to speak out against dog auctions and hope that humane-minded people everywhere will join us!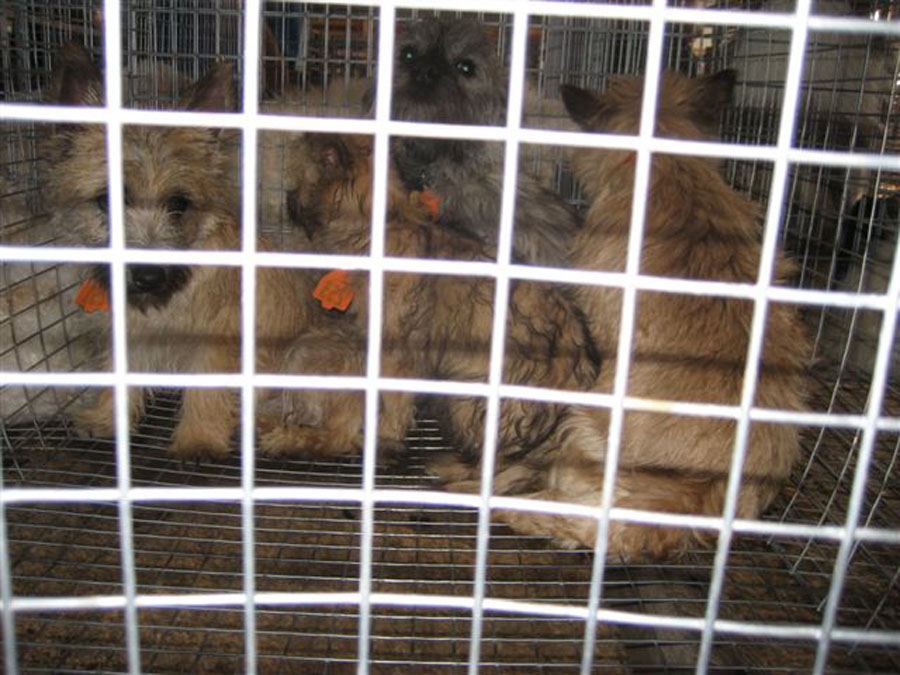 Terrified dogs await their fate at the dog auction on 9/22/07 in Thorp, Wisconsin
Clark County Humane Society
PO Box 127
Neillsville, WI 54456

Phone: (715) 743-4550

Fax: (715) 743-2228



Further Background Information
If you are interested in seeing what a dog auction is like please go to our website (
www.cchs-petshelter.org
). There you will find all kinds of information including: eye-witness accounts, videos of the dogs prior to the auction, videos of the auction in progress, and videos and accounts of the protest at the last dog auction. This may be unsettling for many people to view and read about but it needs to be seen. The only way the auctions will ever be stopped is if enough people care enough about the dogs to become involved and help us.
Our intent is to bring public awareness to the disgusting event, because we know that when people see what is being done to these innocent animals, they will be outraged and help us to get future auctions stopped. We feel that puppy milling and dog auctions are the ultimate betrayal of "man's best friend" in the name of greed. It disturbs us to think that society has sunken to such a level of callousness that puppy mills and their corresponding dog auctions could be looked upon with indifference.